Tinybeans: An Online Baby Journal for Sharing with Family
I'm a "new" mom of one year. My days consist of entertaining (and chasing around) a surprisingly fast toddler, trying to keep her from slamming little fingers in drawers and doors, and watching her learn new things every day.
I do my best to snap at least one photo a day of what she got into, what "new" task she learned, or something we did together - because one thing I've learned over the last year is that time really does not slow down. The last year flew by.
If you're anything like me, these photos have added up and you are occasionally surprised to discover that you have thousands of photos on your phone… and most of them are of your sweet babe(s). To me, all of these photos are adorable and sharable, but I often have to resist the urge to post online.
I try to limit what I share because I am leery of the online privacy thing… as well as being mindful of not oversharing every new thing my little one can do.
And I'm aware that not everyone I know cares to see my child 4-5 times a day on their newsfeed. (Even though they're crazy, because she's ridiculously adorable.)
Coralee and I were chatting about this the other day, and she suggested I check out Tinybeans. It's an app for organizing and sharing your baby photos and milestones.
I hadn't heard of Tinybeans before, but Coralee knew a few past Shortcake customers ordered baby albums that used photos from their Tinybeans accounts. If they liked using Tinybeans to organize and share their baby photos, she thought maybe I would, too.
So, I signed up for Tinybeans to check it out and write this review for you! And I have to tell you, I'm glad I did.
I really liked using Tinybeans. It's kind of amazing.
In short, Tinybeans is an online platform that helps you create a digital baby book. They have a website and an app for your phone. It is private, free, and for parents of all ages and digital skills sets.
Not only does this app address a lot of the hesitations and concerns I had about sharing my baby's photos online, but it also provides a handy way to jot things down in my phone that I haven't been writing in her physical baby book. (gasp!)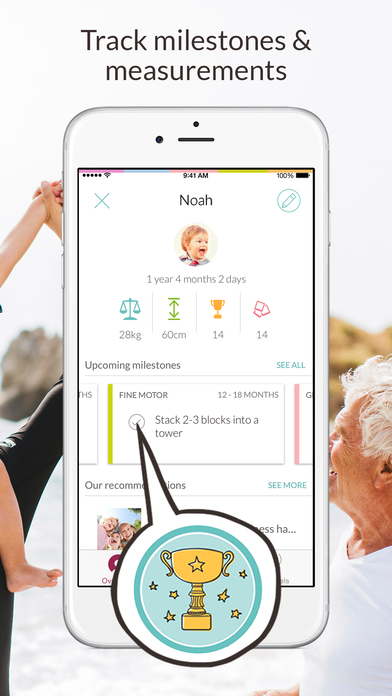 While there are many reasons to love Tinybeans, these are the two main reasons I've continued using Tinybeans beyond my initial sign up:
1) It is simple to use, but has great features.
It was very easy to upload photos and videos.

Your images are saved in a calendar format - so you can see what baby did each day in one glance, and easily look back in time to prior months and reminisce. (This format also makes it clear when you missed a day.)

It's easy to use on your phone, but doesn't require you to download the app. The moments you share can also be viewed on a computer, which is great for grandparents who might not have a smartphone. (Like my Mom, who gets a daily email of what I uploaded the prior day - it makes her morning!)

Multiple people can add to the calendar, so both me and my husband can post. (Other relatives or caregivers could, too.)

Tinybeans reminds me when I haven't posted a photo.

It includes 250 Department of Health-approved developmental milestones from years 0-6, which makes it really easy to follow if your little one is on track in certain areas, and gives you a heads-up on what to expect in the future.

Lastly - the slideshow feature. I tend to use this feature when I am having a "moment" missing my daughter during the work day. It puts together photos and dates of previously uploaded content, and is just a great way to relive a year (or more) in a matter of minutes.
2) It is private… allowing me to include only the people I want.
I can overshare my baby's photos and know I am not clogging news feeds. The family I have invited to Tinybeans want me to overshare, since many of them are hours away and don't see my daughter on a regular basis.

I'm not afraid to share private moments or milestones, because I know only a short list of my closest, pre-approved family members will be able to view them.

All the photos & content I upload is mine, nothing is owned by Tinybeans.

When you do have something special you want to share with your larger network, it's easy to share a post from Tinybeans to Facebook.
Note: Tinybeans also has a Premium option for additional features like ad removal and uploading videos over 5 minutes. (From $50/year.)
Tinybeans' Photo Book Feature
Photo books is what we do here at Shortcake, so of course I had to review this feature!
Tinybeans can also print photo books of your uploaded moments. You can choose from a 3-month, 6-month, or 12-month timeframe and pick any month to start from. Then Tinybeans auto-populates a photo album for you. (Pricing starts at $61.95 for a 3-month book.)
The first and last pages of the album are collages of moments from your chosen time frame. The other pages consist of text pages showing the month and year (i.e. "December 2016"), followed by a calendar view for that month, and then 4 pages of larger photos from that month.
Customization is a bit limited, but it does allow you to swap out photos and change the background page color. You also have 4 standard page layouts to choose from: single photo, 4 photo grid, calendar view, or text.
I think the Tinybeans' Photo Book is a great option to consider any time you need to print a quick book of photos and aren't too worried about the details. Family reunion next weekend? Grandma's been asking for a brag book? This will be perfect.
Creating a Shortcake Album from Tinybeans Photos
Ordering a custom baby album or family photo book? We're happy to include photos and text from Tinybeans in your Shortcake album design.
The best way to share your Tinybeans photos with our design team is to download them. (Hint: You'll also want to do this to back up your Tinybeans photos as part of your overall personal photo archive.)
Thankfully, Tinybeans makes it easy to export and download the moments you've shared.
When you want to export your photos, you'll head to your journal settings in the right-hand menu of the app or website. Choose specific months to export, or select them all. A zip file is then emailed to you with the requested photos.
Simple right? If you want to include these photos in your next Shortcake album, all you would need to do is forward that email to us.
To sum it all up, the Tinybeans app makes it so easy to upload your moments and share those sweet memories every day with only those who matter most. I would highly recommend trying it out.
Do you use Tinybeans? What features do you like best, or where did it fall short for you? Tell us in the comments below.
Helping you cut through the clutter and chaos, Check It Out is a regular feature from Shortcake Albums, where we share a new favorite app, tool, or product we love and think you will, too. We've personally used each item and receive nothing in return for sharing - we genuinely want you to know about it and hope you'll find it helpful, interesting, or fun.
xo, Coralee & Whitney
Shortcake Albums is a custom photo album design service. Simply connect your digital photos or social media accounts, and our team of professional album designers will do all the work - sorting and organizing all your images and text, selecting the best photos, and laying them out into a custom book of your most special memories and moments.
From premium wedding albums to family yearbooks, baby albums, and more - you can enjoy your family memories again. Order your album at www.shortcakealbums.com.